Medication tracking in the quest for improved adherence to the instructions that accompany medicines is a big issue in improving the outcomes of treatments for many conditions. For example, a review published in the Annals of Internal Medicine revealed that 50% of medications taken for chronic disease management are not taken properly.
This is a major issue in elderly populations who consume as much as 50% of all prescribed medications, with those who take multiple medications adhering to the prescribed program about half the time. With causes ranging from socioeconomic factors to cognitive status and availability of in-home care, older adults adhering to medication programs is a major component in driving down healthcare costs and lowering the amount of unnecessary hospitalizations that occur.
To help address this issue, the tech community is stepping in with innovative solutions aimed at providing caregivers, health systems and patients with new tools to assure proper adherence to prescription instructions. From pill trackers, to smart pill bottles and digital ingestion tracking systems, technology may hold the key to improved patient outcomes.
Digital Pill Trackers
Pill trackers are more than just containers with medications slotted into compartments labeled by day of the week. As with anything in the modern world, there are technological solutions for tracking medication usage.
One proposed solution includes a wearable sensor in the form of a smart necklace that can detect when a medication has been swallowed, differentiating between vitamins and medications when swallowed as well as saliva or water being swallowed and when the person is speaking.
As you might expect, a variety of applications that provide medication scheduling and notifications are out there. Some provide alerts in the form of a text message reminding the patient to take their meds. DoseCast is one of note. It lists all of the medications you take and organizes them by prescribing doctor while providing notifications regardless of internet connection or time zone.
This is particularly useful for patients suffering from neurodegenerative conditions. Changes in routine could throw them off or cause them to completely forget to take their medications. Most pill trackers can now be synced with a mobile application so that adherence history is also available.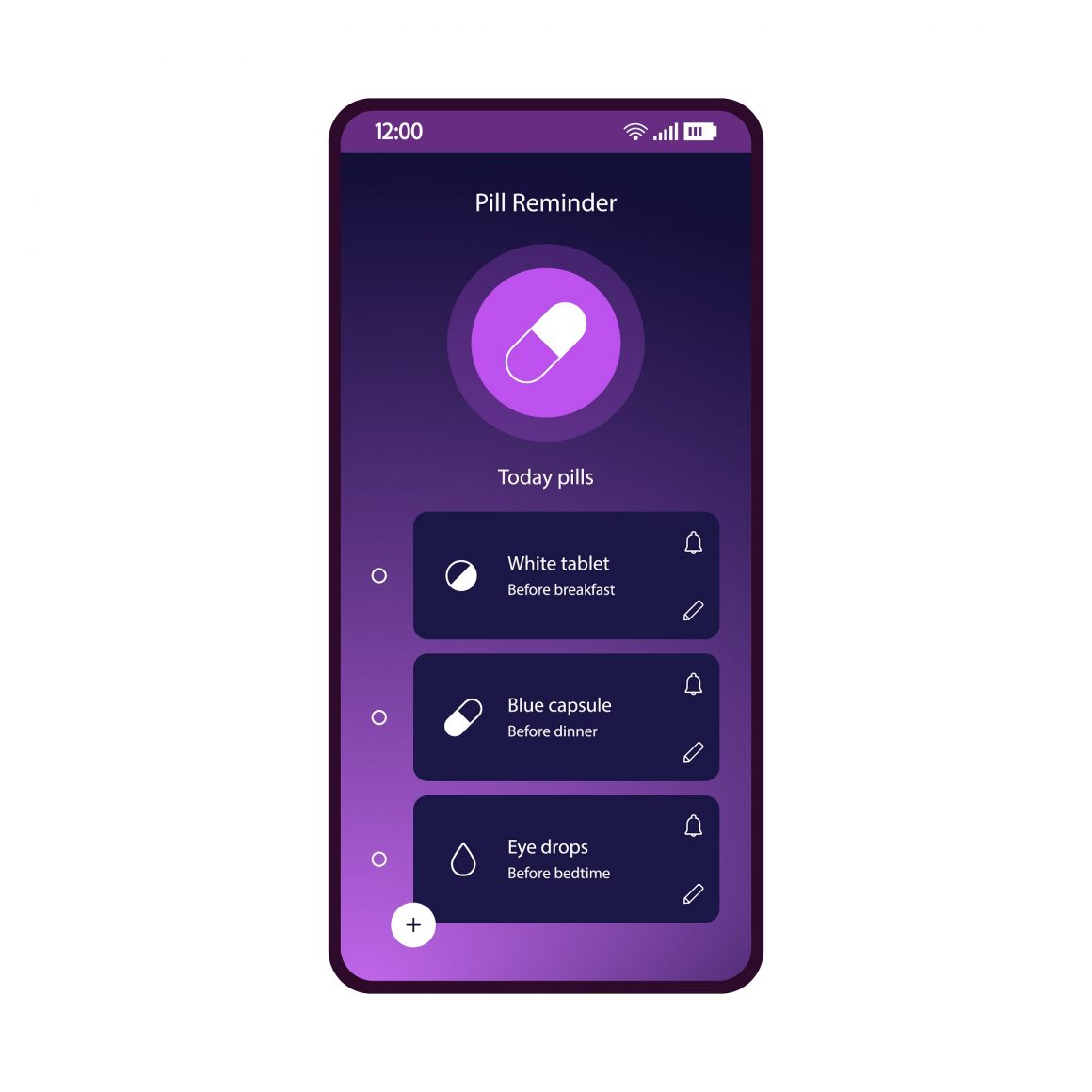 Smart Pill Bottles
Many smart pill bottles come with caps that can set off alerts for patients to take their medication and give a window into adherence, but more often than not, these tools equate the removal of the cap to a dosage appropriately taken.
An alternative to this has surfaced from AdhereTech, a smart pill bottle company in which the focus has shifted from the cap to the bottle. While it still looks at cap removals, it also is able to sense the number of doses remaining based on the capacitance, or medications touching the floor of the bottle's interior.
This tool also does not require an internet connection as it is equipped with cellular connectivity and includes a portal that allows providers to check in on their patients. With a six-month battery life, AdhereTech has the potential to warn providers of adherence issues without the patient doing much at all.
Another fascinating device includes the InPower medication dispenser, a tool which is currently being piloted. The dispenser alerts a patient when it's time to take a medication, dispensing the correct dosage by weight.
A cellular connection can sync the medication information to a pharmacy portal so that clinicians can see whether a patient is taking their meds on time. The dispenser can also connect to other wellness devices such as blood pressure monitors, glucometers and even scales to paint a clearer picture of the person's health.
Digital Ingestion Trackers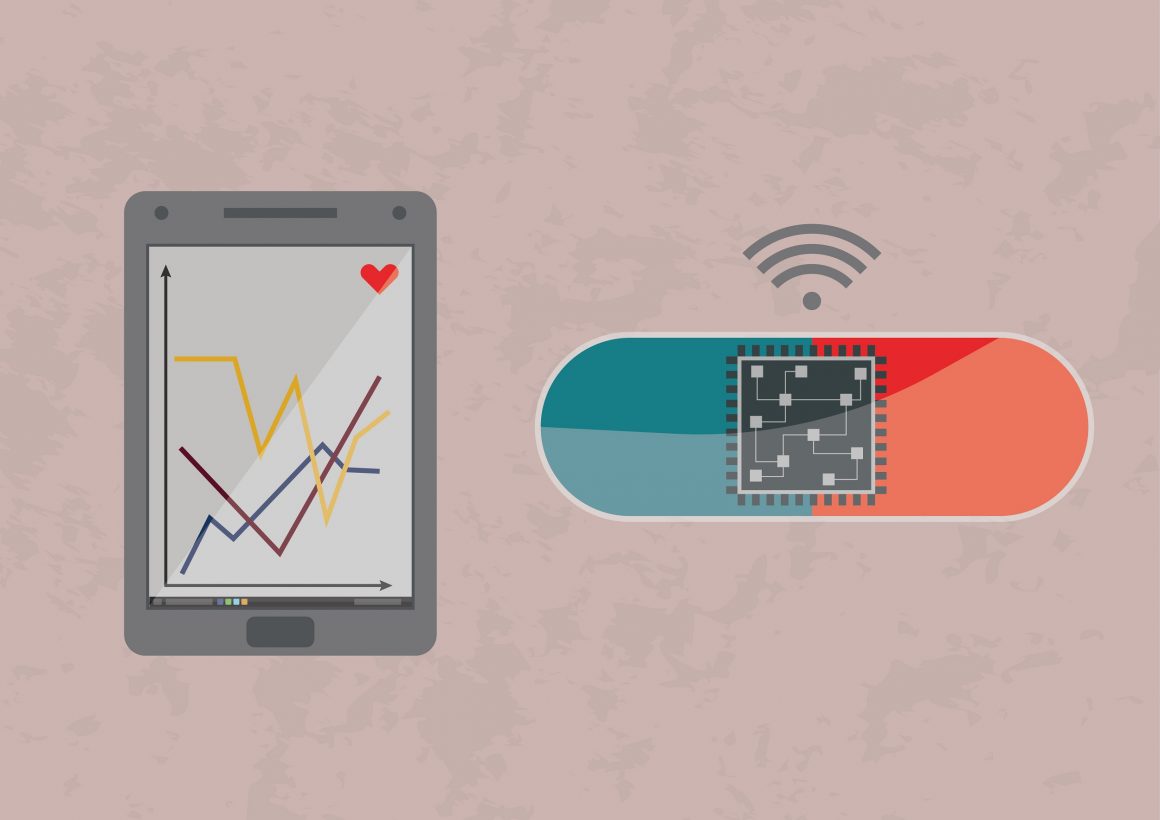 A few years ago, the Food and Drug Administration approved the first smart pills with ingestible tracking systems. What this entails is a pill with a sensor embedded into it. Information regarding dosage and when it was ingested is transmitted to a skin patch which is changed on a weekly basis. As the pill comes into contact with stomach acid, information is transmitted via Bluetooth to the user's smartphone, where the information can be shared with whoever the patient chooses. The pill, same as any other medication, is metabolized and excreted.
There are now multiple providers of this technology. In the case of Proteus, the patch is worn on the stomach and can also detect behavioral data such as steps taken, heart rate, activity levels and rest periods.
The pill looks just like a normal pill, but includes a high-volume semiconductor the size of a grain of sand.