An international research team from universities in England, Germany and Italy have published a new study showing loss of the nerve-protecting layer called myelin is one of the key factors in age-related cognitive decline.
The findings may provide scientists another place to focus efforts in combating cognitive decline among older people, a demographic that will grow in many parts of the world over the next few decades. The number of people over the age of 65 is expected to double by 2050, according to the United Nations.
Researchers said their work not only confirms past studies that showed a reduction in the myelin repair process contributes to cognitive decline, but also may help scientists understand why.
"An exciting new finding of our study is that we have uncovered one of the reasons that this process is slowed down in the aging brain," researchers wrote in a news release about the study.
They may also have found a molecule that has the potential as a treatment.
What Is Myelin?
Myelin plays an important role in brain function. Made up of protein and fatty substances, myelin provides a protective sheath or insulating layer around nerves in both the spinal cord and the brain.
When a nerve is well-insulated, electrical impulses can travel through it quickly and efficiently. However, if myelin begins to break down, the impulses slow, which can lead to neurological issues.
Past studies have shown that loss of myelin is a key factor in the loss of cognitive abilities. That loss also is central to several neurodegenerative diseases, including Multiple Sclerosis and Alzheimer's disease. 
The new study takes things a step further, finding that cells that play a key role in myelin repair become less efficient as people get older. They also identified a key gene impacted, a situation that reduces the cells' ability to replace lost myelin.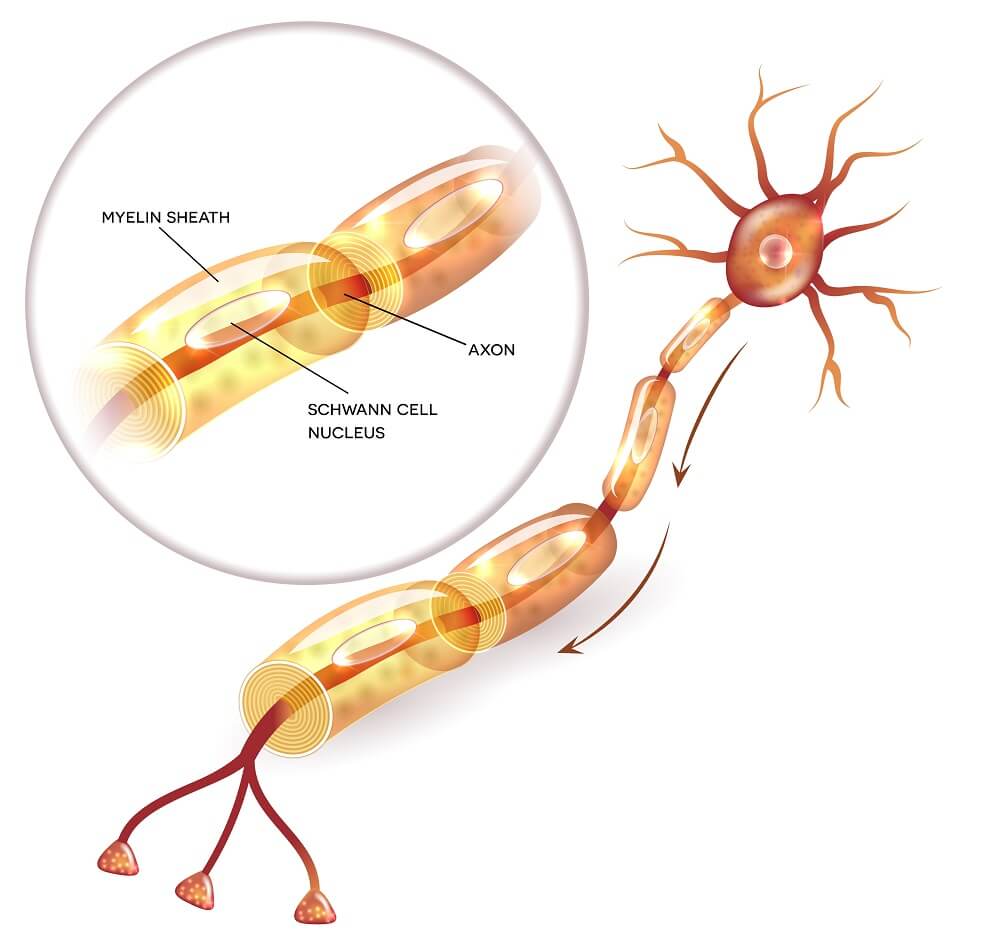 A Molecule That Repairs Myelin
The study found that loss of activity of the GPR17 gene is responsible for age-related deterioration of the myelin sheath. The scientists reached this conclusion by comparing the difference in gene activity in the brain between one-month-old mice and 18-month-old mice. 
Brain cells that produce myelin are called oligodendrocyte, throughout life, they get replaced by stem cells called oligodendrocyte precursors. The research showed that the inactivity of the GPR17 gene led to less activity from the precursors, leading to a weakening of the myelin insulation around nerves.
However, the researchers found that a small molecule compound  – called LY294002 – helped to rejuvenate activity in the gene and resulted in better repair to myelin. Dr Azim of the University of Dusseldorf, one of the members of the team, said "this approach is promising for targeting myelin loss in the aging brain and demyelination diseases, including Multiple Sclerosis, Alzheimer's disease and neuropsychiatric disorders."
But, he added, the research has only "touched the tip of the iceberg" and future investigation is needed.
While scientists work with molecules, is there anything regular people can do to project myelin sheaths in their brains? Past research noted by The Mayo Clinic found that regular exercise, even for people with a high-fat diet, helped provide protection against myelin deterioration.